401-420

401 AERIAL CROP SPRAYING
Boston, etc c1967
8.75 min Colour Sound* Std 8mm
There is a clear explanation of working methods, both on site and in the provision of the necessary administrative back-up. The work is seen mainly from the Company's viewpoint rather than the Farmers'.

402 HOME-MADE HOVERCRAFT
Grantham 1968
6.5 min Colour Sound* Std 8mm
Two teenage boys build their own simple hovercraft, whilst a veteran engineer tackles a more advanced project. Both machines are then put through their paces, and perform convincingly.

403 SLEAFORD CUBS
Sleaford 1968
8.5 min Colour Sound* Std 8mm
Cub Scouts earning their badges by taking various tests both indoor and outdoor. A lively game of Cowboys and Indians relieves the rather solemn atmosphere.

404 KESTEVEN FIRE SERVICE
Grantham 1968
9.75 min Colour Sound* Std 8mm
The emphasis is on maintenance and training exercises which show a range of different appliances and techniques in use.

405 PHANTOMS AT CONINGSBY
Coningsby 1969
8 min Colour Sound* Std 8mm
Coningsby was the first UK base where Phantom 'Strike-Interceptor' fighter planes were stationed. As well as the usual tarmac and Control Tower scenes, the film includes good air-to-air footage, a flight trainer, and various informal glimpses of the Mess, gymnasium, etc.

406 THE LAST SORTIE
Waddington, etc c1969
11 min Colour Sound* Std 8mm
Good take-off, landing, and air-to-air footage of surviving Lancasters including the 'Guy Gibson'. Enthusiasts are also seen restoring aircraft and WW2 military vehicles. Includes scenes at Alpheton in Suffolk.

407 EDDISONS OF GRANTHAM
Grantham, etc 1970
7.25 min Colour Sound* Std 8mm
A major Plant Hire company at work. Office and maintenance scenes at headquarters, with heavy equipment seen in use at construction sites in various parts of the country. Of no less interest than the Plant itself is the office equipment. The latest thing in computers is a real eye-opener.

408 THE DAYS OF THE HORSE
Ruskington Fen 1970
8 min Colour Sound* Std 8mm
A beautiful film about a farmer who was still using working horses. A typical day on the farm is shown, from morning harnessing to the final rub down at evening, with work out in the fields, harrowing and pulling carts.

409 KINGS SCHOOL, GRANTHAM
Grantham 1970-71
14.5 min Colour Sound* Std 8mm
Grammar School boys (including the sixty or so boarders) at work and play. A detailed record of daily life at the school, not forgetting the staff, the caretaker and the CCF. Though the overall content is predictable, many details have already acquired a 'period' feel, e.g. an epidiascope in classroom use.

410 EXPO STEAM
Peterborough 1973
13.25 min Colour Sound* 16mm
Scenes throughout a long weekend at a Steam Rally, with traction engines and various other steam vehicles, including large scale working models. There is plenty of human interest, with a Fairground on site, and practical demonstrations of ploughing, etc. The film ends with the engines being manoeuvred onto low-loaders ready for departure.

411 THE BELVOIR HUNT
Belvoir, etc 1973-74
46 min Colour Sound* 16mm
Good hunting scenes filmed at Meets throughout the area in different seasons and weather conditions. There are notable sequences showing behind-the-scenes work at the kennels, and essential but unglamorous jobs such as valeting the huntsmen's outfits after a muddy day in the field. There is also a substantial section on the activities of the Pony Club, including the annual camp.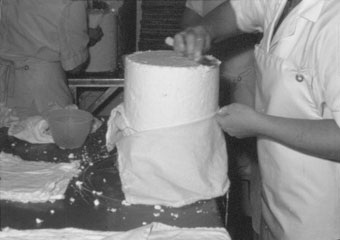 412 WHAT FARMING IS ALL ABOUT
Various 1975-77
26 min Colour Sound* 16mm
Originally intended for showing to children (How is our food actually grown and produced?) but of wide general interest and full of fascinating material on numerous aspects of farming in the mid-70s. Of particular note are sequences on battery egg production, a Pork Products factory, the processing of sugar beet and the making of Stilton cheese. More conventional subjects such as wheat and barley, potatoes, dairy cattle, sheep shearing etc., are also included.


413 ANCASTER
Ancaster 1977-8
70 min Colour Sound* 16mm
The history of Ancaster is outlined using old photographs and period scenes re-enacted in costume, whilst all aspects of village life in the late 1970s are covered in documentary fashion: the school, the shops, the garage, the blacksmith, the hairdresser, the football club. A well-rounded picture of a local community at work and at play.


414 ROUND AND ABOUT
Various Locations 1978-80
34 min Colour Sound* 16mm
Three Magazine-style films covering various events, notably a Balloon rally, a Steam Rally, the Belvoir Hunt, Sleaford Cycle Club, Lambing, RAF Coningsby, Artists at work, a Beauty Salon, and the usual Garden Fetes, Flower Shows, Guides & Brownies, school Panto, etc.

415 SPALDING FLOWER PARADES
Spalding 1959-79
98 min Colour Silent 16mm
A large collection showing most of the Annual Parades of the 60s and 70s, originally shot as master material for the production of Package films for the home market, and surviving in a variety of formats (some camera originals, some prints, etc). Full details on request.

416 FARROWS PROMOTIONAL FILM
Spalding 1921-22
6.75 min B/W Silent 35mm
The firm of E W Farrow supplied irrigation equipment. Surviving promotional footage shows hand-operated and steam pumps in action, a steam crane at the depot, and ships being loaded on the Welland with lengths of hose for export. There is also informal footage taken in the garden of the family home.

Note: Though of considerable local interest, much of the material is technically unsuitable for professional use.

417 FARMING SCENES, SLEAFORD AREA
Sleaford area c1959
4.75 min Colour Silent Std 8mm
Miscellaneous farming scenes including a Farm Machinery Sale at Quarrington, ICI fertiliser being unloaded at Ruskington station, and a potato harvesting demonstration near Ancaster.

418 IRON ORE WORKING IN LINCOLNSHIRE
Scunthorpe. etc c1946
26.75 min Colour Silent 16mm
Lengthy and detailed captions identify the locations and explain the work in progress. (See also Nos 419, 420.)

419 IRON ORE WORKING AT SCUNTHORPE
Scunthorpe 1951-53
32.5 min Colour & B/W Silent 16mm
Striking but mostly unedited footage of heavy plant (scrapers, draglines, etc) at work on various sites.

420 DRILLING AND BLASTING
Scunthorpe 1951
13 min B/W Silent 16mm
Large quantities of ore are shown being loosened by blasting. The drilling machine is seen in action, after which the charges are placed and detonated.


New archive films available from the Film Archive and Primetime Video



Regular updates to keep you informed about the LFA


Full listings of all the LFA film material


How to contact the Film Archive for general or commercial enquiries


Lincolnshire Film Archive details