161-180

161 DALES RESERVE COLLECTION
Numerous locations 1950-70
c 120 min Colour Silent 8mm
Exterior views of many village churches and other notable buildings in rural areas. Some agriculture. Most scenes fairly static and without people.

162 PALMER RESERVE COLLECTION
Spalding 1927-35
c 15 min B/W Silent 16mm
A few purely personal/family items. Most of the William Palmer material is now separately catalogued.

163 SCUPHOLM RESERVE COLLECTION
Wainfleet & District, some non-Lincolnshire 1950s
c 30 min B/W & Colour Silent 9.5mm
Family and/or informal village scenes. Some holiday material, including regional airports.

164 DOGDYKE PUMPING ENGINE
Dogdyke c1972
17 min Colour Sound Super 8mm
Steam pumping engine after restoration by Preservation Trust. Exterior and interior scenes of engine house, engine, etc.

165 SLEAFORD GOLF CLUB
South Rauceby (Nr Sleaford) 1924
8 min B/W Silent 35mm
An exhibition match by four named professionals, watched by a large crowd. The players are seen driving off, putting, etc. Good scenes of spectators and club members during the lunch interval. The start of the afternoon round is also shown. An item of great social as well as golfing interest.


166 THE BELVOIR HUNT
Various 1953-54
75 min Colour Silent 16mm
A typical year in the life of the Hunt, including an appearance at the Lincolnshire Show, and others. As well as many different meets in Lincolnshire and adjacent counties, there are good sequences at the kennels with hounds, puppies, etc. Detailed explanatory inter-titles throughout.
167 THANKSGIVING DAY (1942)
Boston 1942
5.5 min B/W Sound 35mm
An extended version of No 019, with much valuable additional material of the parade and service, and including speeches (at a dinner in honour of the American troops) which retrospectively reveal the width of the culture gap which the day's events were attempting to bridge.

168 THANKSGIVING DAY (1943)
Boston 1943
3.25 min B/W Sound 35mm
Parade through the streets, and service at Boston Stump, attended by American troops and prominent English clergy including the Archbishop of Canterbury.

169 HOME GUARD DISMISS
Spalding 1944
6.5 min B/W Sound 35mm
The final stand-down parade of the 2nd Holland Battalion of the Home Guard. Local contingents parade on the Grammar School field to be addressed by Lt Col Robert Cooke and Alderman Sir John Gleed, and afterwards march past a saluting base in the Market Place.


170 PEST CONTROL
Brandon 1948
6 min B/W Silent 16mm
Early crop-spraying by helicopter - a modified Sikorsky of staggering size. The aircraft is seen taking off, spraying a potato crop, landing, and being refilled with chemicals from the support vehicle. There is also an in-flight sequence taken from on board.
171 POTATO HARVEST
Brandon 1948
6.5 min B/W Silent 16mm
The latest Johnson Harvester in use, with W.L.A. members on board, and dumper trucks alongside. Also shown is the method this replaced, with gangs of Irish potato pickers gathering the crop by hand after the soil has been mechanically loosened. The building of a potato clamp is seen in some detail.


172 WHEAT HARVEST
Brandon 1948
3.5 min B/W Silent 16mm
A tractor-hauled International 31 RW (1939) and a self-propelled Massey Harris 21 (1944) are seen harvesting, with many good detail close-ups.

173 PEA HARVEST
Brandon 1948
2.5 min B/W Silent 16mm
A large pea crop being gathered by International 62 and Massey Harris harvesters.

174 GENERAL FARM SCENES
Brandon 1948
5.5 min B/W Silent 16mm
Cattle on the move and grazing, Hay baling, Pea vine silo, and vegetables being loaded for market.

175 FARM STAFF AT COURT LEYS FARM
Brandon 1953
1 min B/W Silent 16mm
Farm owner and employees pose with trophy awarded for Best Farm; as the group disperses afterwards, there are good close-ups and semi close-ups of farm employees, some of whom were former foreign P.o.W.s.

176 BURTT RESERVE COLLECTION
Brandon 1948-53
c 15 min B/W & Colour Silent 16mm
Building a large new shed. Flood scenes from 1950. Various brief and unrelated farm scenes.

177 WORLD'S FIRST CATERPILLAR TRACK VEHICLE
Grantham 1908
12.5 min B/W Silent 16mm from 35mm
Two different tracked vehicles, developed by Hornsby's, are impressively demonstrated over various types of difficult terrain impassable by conventional means. These vehicles, invented by David Roberts, were the forerunners of the Tank and countless items of farm and earth-moving machinery.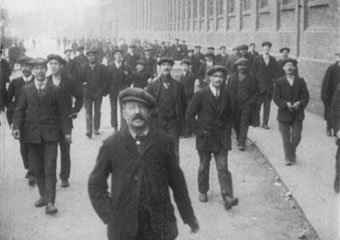 178 WORKERS AT HORNSBY'S FACTORY
Grantham 1913
3 min B/W Silent 16mm from 35mm
Street scenes of clerks and mechanics leaving the factory, and later returning. Many children are also present, most of them spectators.

179 FOOTBALL MATCH (1913)
Grantham 1913
4 min B/W Silent 16mm from 35mm
A charity match between the Police and the Fire Brigade, with kick-off by the Mayor. Good scenes of the match and spectators.

180 RECRUITING DAY
Grantham 1915
3.25 min B/W Silent 16mm from 35mm
Earl Brownlow and other speakers outside the Guildhall. Crowds wave hats in the air. Recruiting staff and some of the recruits are also featured.


New archive films available from the Film Archive and Primetime Video



Regular updates to keep you informed about the LFA


Full listings of all the LFA film material


How to contact the Film Archive for general or commercial enquiries


Lincolnshire Film Archive details