301-320

301 LOUTH CARNIVAL PROCESSION
Louth c1964
2 min Colour Silent 16mm
Various Carnival floats seen in procession through the streets.

302 BRITISH LEGION BAND PARADES
Louth 1956/8
10 min B/W & Colour Silent 16mm
The Louth Band featuring in the parades for Remembrance Day 1956, (B/W & Colour), when the new Corps of Drums makes its first appearance; and Mayor's Sunday 1958 (B/W).

303 SOUTH HOLLAND TULIP FIELDS
Spalding District c 1938
4 min Colour Silent 16mm Research only
Mostly filmed from a moving car, hence very jerky, but of interest as showing the varieties grown and the system of cultivation.

304 HOME GUARD STAND DOWN
Spalding 1944
4 min B/W Silent 16mm
The final stand-down parade of the 2nd Holland Btn. Informal footage, including some people and scenes not shown in No 169, the official film of the same event.

305 PARADE (SPALDING MARKET PLACE)
Spalding c 1945
1 min Colour Silent 16mm
Market Place with bunting. A Parade is imminent, but little of it is actually shown. Said to have been VE or VJ Day, but this is unconfirmed.

306 WINTER FLOODS
Postland (Nr Crowland) 1947
1.75 min B/W Silent 16mm
A flooded farm, with fields under water. A locomotive proceeds very cautiously along the railway line near Postland.

307 CHILDREN'S FANCY DRESS PARTY
Spalding c 1947
2 min Colour Silent 16mm
Young children in fancy dress at a party in Ayscoughfee Gardens.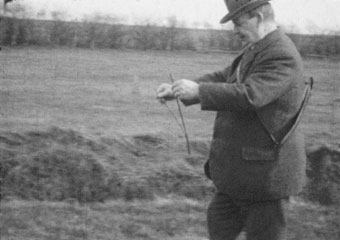 308 WATER DIVINER AT WORK
Unknown (? Nr Boston) c 1925
0.5 min B/W Silent 16mm
The water diviner, believed to be the renowned William Stone of Old Bolingbroke, walks over a likely spot. His hazel twig dips and twists convincingly in the traditional manner.

309 SKEGNESS (1927)
Skegness 1927
7 min B/W Silent 16mm
Delightful family film, mostly beach scenes, paddling, bathing, donkey rides, etc, but including a ride on the "Figure 8" and fascinating scenes showing the manufacture of stick-jaw.

310 MAY FAIR (1925)
Boston 1925
2 min B/W Silent 16mm
Many family shots of young children, with Nanny, enjoying various rides. An item of considerable interest to fairground enthusiasts, and including a brief close-up of legendary Boston showman, Ben Howden.


311 MAY FAIR (1927)
Boston 1927
2.5 min B/W Silent 16mm
Similar to 310, but including other rides and details of interest to fairground enthusiasts.

312 MAY FAIR (1928)
Boston 1928
1 min B/W Silent 16mm
Similar to Nos 310 & 311, but including some other rides and details of interest.

313 CHILDREN'S BIRTHDAY PARTY
Boston 1928
1.5 min B/W Silent 16mm
Outdoor tea-party in large garden, with well-to-do adults and well-behaved small children seated at a long table, waited on by a maid in cap and apron. The adults seem more enthusiastic than the children.

314 RNA PARADE (1951)
Boston 1951
4 min Colour Silent 16mm
Royal Naval Association parade through the streets. Men in uniform, spectators. As usual with this type of item, much of the interest now lies in the backgrounds and incidentals.

315 MAY FAIR (1963)
Boston 1963
1.5 min Colour Silent 16mm
General fairground scenes, with views of various rides.

316 KODACOLOR SCENES
Boston & Skegness 1931-3
12 min Colour Silent 16mm
Rare example of film shot using this early and short-lived colour process. Mainly family scenes at home or at the beach, but including a brief glimpse of Empire Day 1932, celebrated in Central Park, Boston. Though many of the scenes are delightful in themselves, the main interest is technical. These are possibly the earliest colour motion pictures to be taken of Boston and Skegness, and provide an excellent demonstration of what could be achieved by the Kodacolor lenticular system, introduced in 1928, but soon abandoned in favour of the vastly superior Kodachrome.

Note: The Kodacolor lenticular system, an "additive" process, produced a colour record using a single B/W film. In front of the camera lens was a special filter with red, green and blue stripes. The film itself had an embossed base like a microscopic version of reeded glass, and was loaded into the camera with the base side facing forwards. Each ridge in the film base acted as a tiny cylindrical lens, focussing narrow parallel images onto the emulsion behind it, corresponding to the three coloured strips of the filter. So the red, green and blue elements of the complete picture were recorded in hundreds of interleaved vertical strips across the film. Projection through a similar filter optically recreated a coloured image on the screen, each strip of the picture being reproduced in its appropriate colour.

317 CLARK RESERVE COLLECTION
Boston, Skegness, Various 1925-63
40 min B/W & Colour Silent 16mm
Personal and family footage, mainly domestic or at the beach. (The earlier items in particular are of social/historical interest: Nanny, car, dress, toys, etc.)

318 SURFLEET WATER SPORTS
Surfleet 1945/6
2.25 min B/W Silent 16mm from 8mm
An LHFA compilation from informal material shot in two successive years. Diving, springboard, various races (adult and children) pillow fight on pole, prize giving.

319 WINTER SNOW (1947)
Spalding 1947
0.75 min B/W Silent 16mm from 8mm
Three or four middle-aged people shovelling snow to clear a pathway after a heavy fall.

320 V.E. PARADE
Spalding 1945
1.75 min B/W Silent 16mm from 8mm
Scenes in Swan Street and Church Street with various contingents marching past in uniform. Of interest because of the occasion, despite its technical limitations.

New archive films available from the Film Archive and Primetime Video



Regular updates to keep you informed about the LFA


Full listings of all the LFA film material


How to contact the Film Archive for general or commercial enquiries


Lincolnshire Film Archive details