061-080

061 LINCOLN NEWSREEL
Lincoln 1962
15 min Colour Silent 8mm
A compilation by Lincoln Cine Club; it includes interesting footage of the last Lincoln Handicap at Lincoln Racecourse, with TV Outside Broadcast crew in action, and useful scenes at the Fair and the Lincolnshire Show. Further items (research only) show the aftermath of a major fire, and a film unit at work.

062 SPORTS DAY AT CHURCH SCHOOL
Market Rasen 1926
0.5 min B/W Silent 9.5mm
A brief but delightful item, showing young children running egg and spoon races, etc.

063 LOUTH FIRE FIGHTING
Louth 1939
3 min B/W Sound* 16mm See note, page 12
Competitive exercises for AFS fire crews, held in Hubbards Hills, and the town centre. There are also brief scenes showing earlier fire engines, etc.

064 BUNNY AUSTIN AT MAYOR'S SUNDAY
Louth 1939
2.75 min B/W Sound* 16mm See note, page 12
The Wimbledon tennis star, and other prominent members of the Moral Rearmament group, are seen outside the church. The parade includes nurses, the Scouts, and the OTC.
065 EARLY WARTIME SCENES
Louth 1939
4.75 min B/W Sound* 16mm See note, page 12
The impact of petrol rationing, new regulations, gas masks, recruits, evacuees, sandbags, and the building of air-raid shelters.
066 INCENDIARY BOMB DEMONSTRATION
Louth 1939
3 min B/W Sound* 16mm See note, page 12
A public demonstration of how, and how not, to deal with incendiary bombs. Specimens are dropped from a scaffolding tower in the town centre, and the effects of sand and water are illustrated. Members of the public, armed with stirrup pumps and dustbin lids, then extinguish a further specimen.

067 AFTER LOUTH'S FIRST AIR-RAID
Louth 1940
2 min B/W Sound* 16mm See note, page 12
It could have been worse. A morale-boosting round up of the very limited damage, principally to gravestones and a crop of rhubarb. The only actual casualties were a crow and a mouse.

068 THE STORY OF TALBOT HOUSE
Louth 1941
17 min B/W Sound* 16mm See note, page 12
A light-hearted, but sincere and moving tribute to the Toc H volunteers who ran Louth's three Talbot Houses, providing recreational facilities for men and women in the services. A film of wide, rather than purely local, appeal, it powerfully reflects the spirit of wartime co-operation.

069 AN OLD-FASHIONED WINTER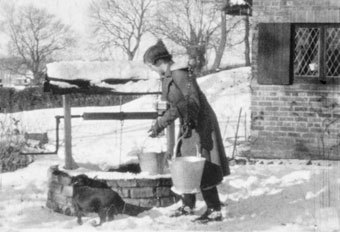 Louth 1938/39
14 min B/W Sound* 16mm.
After a charming "Dickensian" opening filmed at the "Woodman's Cottage", Bag Enderby, the film shows town and countryside in the grip of severe winter conditions. It goes on to feature the beauty of Hubbards Hills under deep snow, and a selection of winter sports - skating at Elkington Lake, tobogganing at the Cowpastures, and an epic snowball fight at Monks Dyke School.

070 A RAMBLE ROUND LOUTH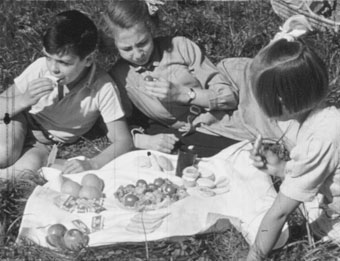 Louth & District 1940
18 min Colour Sound* 16mm.
May 1940. Three children go for a walk through Spring countryside that is timeless, idyllic. The war seems far away, but the children carry gas masks, and we are poignantly aware that everything we see is under threat. Today, we know the outcome. But those at the premiere faced the grim knowledge that they might be seeing these placid scenes for the last time. A beautiful, and intensely moving film, this little masterpiece is deservedly amongst the most popular items in the Archive.

071 A DAY IN THE HOLIDAYS
Louth 1942
12 min Colour Silent 16mm See note, page 12
A Family story, with Dad as maid of all work, and the children getting up to mischief around the house and garden. There are interesting period touches; guests arrive by pony and trap, a maid in cap and apron serves tea in the garden, and the children sleep in the air-raid shelter. Not without charm, but the film lacks the stature and broad appeal of the earlier Ramble Round Louth.

072 A-HUNTING WE WILL GO
Louth & District 1938 & 1942
9.5 min B/W Silent 16mm See note, page 12
Footage of the South Wold Hunt in 1938 was subsequently intercut with scenes shot four years later, to make a story about some children whose dog inadvertently disrupts the day's proceedings. The combination was less than successful, but the Hunt material remains of considerable interest.

073 GYMKHANAS, RIDING, ETC
Louth 1937 – 40
12 min B/W Silent 16 mm
Pleasing scenes of children and horses at Thorpe Hall Pony Club and in Hubbards Hills.

074 GIRLS' GRAMMAR SCHOOL SPORTS
Louth 1938
3 min B/W Silent 16mm See note, page 12
Those taking part include Mums, Dads, little brothers, and - somewhat unexpectedly - a sheep. No one has yet heard of Adidas; the girls race and jump in blouses, ties and knee-length skirts.

075 OPENING OF COUNTY HOSPITAL
Louth 1938
2.5 min B/W Sound* 16mm See note, page 12
The official opening of the Lindsey County Infirmary. Only a few damaged fragments survive from a once much longer film. In a tail-piece, however, the hospital's notorious chimney, now demolished, is mercilessly lampooned.

076 STORM DAMAGE
Mablethorpe 1938
0.5 min B/W Sound* 16mm See note, page 12
Beach huts reduced to matchwood by the freak storm of January 1938.

077 CIVIC OPENING OF GARDENS
Sutton on Sea 1938
1.25 min B/W Sound* 16mm See note, page 12
Official opening of the Pleasure Gardens at Sutton.

078 CIVIC WELCOME FOR ALEX HENSHAW
Mablethorpe 1939
1 min B/W Sound* 16mm See note, page 12
The famous Mablethorpe aviator is welcomed home after his record-breaking flight to South Africa and back in a tiny Mew Gull aeroplane.

079 LAMB BORN WITH FIVE LEGS
Binbrook 1938
0.5 min B/W Sound* 16mm See note, page 12
Yes, really. Or so it seems. The lamb is pursued, caught, and exhibited complete with its strange, irregular appendage.

080 TOM WALLS GAME SHOOTING
Welton le Wold 1939
1.5 min B/W Sound* 16mm See note, page 12
The famous actor visits Welton and proves to be a wizard with a shot-gun; or maybe the film editor helped him just a little.


New archive films available from the Film Archive and Primetime Video



Regular updates to keep you informed about the LFA


Full listings of all the LFA film material


How to contact the Film Archive for general or commercial enquiries


Lincolnshire Film Archive details