181-200

181 BELTON CAMP SPORTS
Grantham 1916
3 min B/W Silent 16mm from 35mm
Sports in Belton Park for men of the Machine Gun Corps; a tug of war, bomb throwing, horse jumping, tent pegging, and a mounted display take place in front of troops and civilian spectators.

182 MARKET AND FAIR
Grantham 1915
1.5 min B/W Silent 16mm from 35mm
After a brief glimpse of the fairground rides, the camera tracks slowly through bustling streets, market stalls and general activity.

183 PRESENTATION TANK INSTALLED
Grantham 1919
1.75 min B/W Silent 16mm from 35mm
Excited crowds watch as the tank is manoeuvred into Slate Mill Recreation Ground (now Wyndham Park), to be placed on permanent display. (Ten years later, it was sold for scrap.)

184 LINCOLNSHIRE SHOW (1925)
Grantham 1925
1.5 min B/W Silent 35mm
Crowds, various stands, agricultural machinery, draught horses, the Duke of Beaufort, and a new-born piglet, all feature in this lively item.

185 FOOTBALL MATCH (1935)
Grantham 1935
2 min B/W Silent 35mm
A charity match, possibly held to mark the Royal Jubilee.


186 ISAAC NEWTON BICENTENARY CELEBRATIONS
Grantham 1927
17.5 min B/W Silent 16mm
Prominent local people and invited guests visit Woolsthorpe Manor and Stoke Rochford to mark the occasion. Lengthy processions from the Guildhall to St Wulfram's Church, and thence to the Newton statue, culminate in a wreath-laying ceremony. Staff and boys from King's School take a prominent part.

187 GRANTHAM REVIEW OF 1935
Grantham 1935
70 min B/W Silent 16mm
<Note: A young Margaret Thatcher (nee Roberts) aged 9.
Items covered at length include: the Mid-Lent Fair, seen being erected, then opened by the Mayor, with detailed views of many rides and sideshows; the Jubilee Celebrations, with Children's Party in the grounds of Belton House; Grantham's Centenary as a Borough, marked by many events, notably a massed gymnastic display by children, and a procession illustrating the town's industry and public life; Founder's Day cricket match at King's School; street scenes and the bus station; the funeral of Alderman Theo Rowle; the visit of General Evangeline Booth; a big Society wedding; a football match against Burton Town; and scenes at the hospital. (See also Nos 193-5.)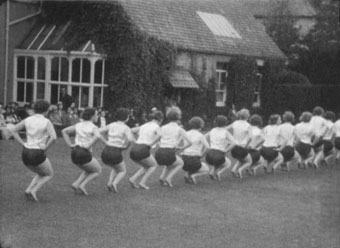 188 GRANTHAM REVIEW OF 1937
Grantham 1937
70 min B/W & Colour Silent 16mm
After panoramic views of the town come street scenes during the March blizzard. Other items include: the Opening of the Fair; aftermath of a fire caused by lightning strike; new cinema under construction; Coronation celebrations - decorated streets, processions, tea parties for children and Old Folks, bonfire, etc; Agricultural Show; RAF Air Display; changeover from DC to AC electricity supply; schools' Athletic Sports; famous trains passing through Grantham; New Drums for King's School OTC; a women's Keep Fit display; and the hanging of the new Coronation bell. (See also Nos 196-9.)

189 VE DAY CELEBRATED
Grantham 1945
5.5 min Colour Silent 16mm
The official (as distinct from unofficial) celebrations. Decorated streets, and an outdoor service at St Peter's Hill, attended by civic dignitaries and a large crowd of all ages.

190 FREEDOM OF BOROUGH FOR 6th Btn, LINCS REGIMENT
Grantham 1946
5 min B/W Silent 16mm
Civic ceremonies, including a special session of the Town Council to authorise the award; presentation of Title Deed; troop inspection and march past. The film includes footage of the Mayor, Alderman Roberts, whose daughter Margaret would later become Prime Minister.


191 CORONATION CELEBRATIONS
Grantham 1953
33 min Colour Silent 16mm
After scenes showing general preparations, street decorations, etc, various civic events are covered. Coronation Day footage includes: flag raising; bell ringers; watching the service on TV; tree planting; carnival procession; Old Folks' tea party; torchlight procession, fireworks and bonfire. The Mayor is also seen sending a telegram of fealty to the Queen, which the operator taps out on her machine.

192 A CHANCE TO MEET MARGARET THATCHER
Various non Lincolnshire c1971
5 min Colour Sound 16mm
Filmed insert for live TV programme, long before she became Prime Minister. A few stills of her parents, their shop, etc, followed by a compilation of newsreel material from Party Conferences.


193 TRAFFIC AND BUS STATION
Grantham 1935
1.75 min B/W Silent 16mm
What passed for heavy traffic in the town centre, followed by scenes at the Bus Station. (Excerpt from No 187.)
194 FOOTBALL MATCH, GRANTHAM v BURTON
Grantham 1935
2 min B/W Silent 16mm
Mainly of interest now for the players' strip - knee-length shorts, etc. Grantham win 2 - 0. (Excerpt from No 187.)

195 GRANTHAM HOSPITAL - A BUSY MORNING
Grantham 1935
4 min B/W Silent 16mm
Nurses and porters stand about in the sunshine; ambulances arrive, patients on stretchers are carried indoors in leisurely fashion; a very young mother leaves with her baby. Busy? The corridors seem almost deserted. Scenes in the children's ward follow, with close-ups of some of the patients. (Excerpt from No 187.)


196 RAF EMPIRE DAY AIR DISPLAY
Grantham 1937
5 min B/W Silent 16mm
Open Day at Spitalgate. Crowds eagerly examine aircraft on the ground, and children clamber into the cockpits. During the flying display, a barrel of beer is dropped by parachute, and a bi-plane made of wood and canvas drops flour bombs onto a Great War tank. It is a sobering thought that in two years' time... (Excerpt from No 188.)

197 CHANGE OVER FROM DC TO AC
Grantham 1937
2.5 min B/W Silent 16mm
At the old power station, steam driven dynamos run for almost the last time, their output controlled by a massive bank of switches and meters. All this equipment is rendered obsolete by the pylons which bring in AC from the National Grid. (Excerpt from No 188.)

198 SCHOOLS ATHLETIC SPORTS
Grantham 1937
2 min B/W Silent 16mm
Boys and girls from local schools compete at running and jumping. Most wear their everyday clothes; in those days, special sports clothing was virtually unknown. (Excerpt from No 188.)

199 TRAINS - 'CORONATION' & 'SILVER JUBILEE'
Grantham 1937
1.75 min B/W Silent 16mm
Scenes in the signal box as the line is cleared in readiness, and the 'Coronation' hurtles through on its daily run. A reverse-angle shot shows the "beaver tail" observation car. The Silver Jubilee is also seen passing. (Excerpt from No 188.)

200 AN UNBROKEN TRADITION
Various c1979
28 min Colour Sound 16mm
A film made for the Lincolnshire Tourist Board, packed with attractive, colourful scenes from all parts of the county, but tending to move on rapidly from one topic to the next.


New archive films available from the Film Archive and Primetime Video



Regular updates to keep you informed about the LFA


Full listings of all the LFA film material


How to contact the Film Archive for general or commercial enquiries


Lincolnshire Film Archive details