Welcome to our News Page, where regular updates will keep you informed about forthcoming events, recent developments, and other LFA news that may be of interest.
CHOOSING A PROGRAMME
Whilst most clients who book our film shows are happy to leave the choice of programme to us, a few expect to be able to look through the Catalogue and make their own selection of items, and they sometimes find it hard to understand why we strongly discourage this.
Many people are unaware that the items held by Film Archives fall into two quite distinct categories. Some are complete films that can be shown to an audience exactly as they are. But many, perhaps even the majority, consist of camera footage that has been left 'as shot', entirely unedited, with all the unsuccessful takes still present, and without the usable scenes having been arranged in their proper order.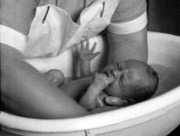 Raw footage of this kind is often of great interest, especially to researchers and to production companies who expect to make their own selection of scenes; but it is quite unsuitable for showing to audiences as it stands. Where the material is of sufficient interest, LFA will generally produce a specially edited (and generally much shorter) version suitable for public showing. But we can't do this for every item, so there's no guarantee that a title listed in the Catalogue will be an appropriate programme choice.
In any case, there's a lot more to building a successful programme than simply picking titles from a list.
The first and most important job is choosing a suitable item to end with. People's overall satisfaction, and their lasting impressions of the show, very much depend on this. And if an interval is requested, a good item to end the first half will also be needed. Equally important is the choice of items to start with, since this will tend to set the overall mood. When it comes to making these vital decisions, there is no substitute for first hand knowledge of the films and practical experience of how audiences react to them.
The same applies to filling the rest of the programme. Some titles neatly complement each other and sit well together. Others don't, being perhaps too similar to include in the same show. Some films can be shown with merely a word or two of prior explanation; others need a detailed introduction if their significance is to be properly understood, so time needs to be allowed for this. And so on.
So trying to choose a programme merely by picking titles from a Catalogue is a recipe for disaster, and will tend to demonstrate the truth of the old adage that when you get what you want, you may find you don't want what you get.
ACCESSIONS
Notable recent accessions include a delightful film of a 'Society' wedding at Boston Stump in 1938. What must once have seemed like a simple record of the guests arriving for the service and leaving afterwards has become, with the passage of time, a fascinating piece of social history. Not only do we get to see what was then considered the height of fashion, but we can almost read the thoughts and attitudes of everyone present, be they the leading citizens of the day who were the stars of the occasion, or the members of the public who crowded the pavements to watch.
A short item from Butterwick in the late 1940s likewise neatly encapsulates a significant moment of agricultural change, when for a brief period, three different eras existed side by side. On the same farm we see working horses, early tractors, and aerial crop spraying by helicopter. Also from Butterwick comes a film of its Coronation celebrations in 1953, with flag-waving villagers of all ages, exuberant but warmly dressed against the cold in their Utility overcoats, gathering at the church hall for a range of events including a children's fancy dress parade and a massive carnival procession.
Of great technical interest is a 1970s film about sugar beet processing. Though it was filmed at Wissington, just over the county border in Norfolk, the machinery and processes were virtually identical at all the BSC factories including those at Spalding, Bardney and Brigg, so except for trifling local variations one location stands for all.
Nature is represented even better than Industry, for the latest batch of accessions includes two major films produced for the Lincolnshire Wildlife Trust in 1967 and 1972. Their message is no less relevant now than when they were first shown. Restoration work on these is still under way, so more news later.
Also still on the work bench are some recently discovered films from the Sleaford and Grantham areas, including the building of the A17 Sleaford bypass, and a spectacular Labour rally at Grantham attended by Michael Foot, who is seen (and heard) addressing the crowd at the end.
AT AN EVENT NEAR YOU
If you've been to any of the major agricultural shows recently (those that weren't rained off) you probably noticed the eye-catching new sales marquee launched jointly this season by LFA and Primetime. It's bright yellow, with two tall flags alongside it, so it's almost impossible to miss.
A useful feature is its adaptability to different weather conditions. On fine days the front can be left open, but if necessary it can easily be closed off leaving only a doorway so as to provide some welcome shelter. Practical tests this season (and there was no shortage of opportunities) have demonstrated conclusively that it really is waterproof.
Assembly on site is straightforward and relatively quick. At present, we can generally manage it in less than fifteen minutes, and we may well improve on this next year with further practice.
The new marquee is nothing if not distinctive, so it should be easy to spot at future Agricultural Shows. Do keep a look out for us, and don't hesitate to pop in and say hallo.

THE CENTURY ON FILM

This Christmas we released the latest DVD in our major new local history series. Reel 4, 'Which Way Now', is the latest in this exciting series and covers the early 1950s. With the ending of wartime restrictions, film once again became available to the enthusiastic cinematographer. In this DVD we see film of the bad winter of 1946-7, the first post-war Royal Show, the Festival of Britain, the Humber ferry, the Coronation of Queen Elizabeth II, and the 1953 east coast floods. Plus much more fascinating motion picture film. Narrated by Alan Stennett.
.