421-440

421 FARMING SCENES AT CARRINGTON
Carrington c1963-4
21 min Colour Silent Std 8mm
Miscellaneous material of variable quality. Useful sequences showing steam threshing and ditch digging. Combining, muck spreading and beet loading/washing also feature.

422 LINCOLNSHIRE REGIMENT MARCH THROUGH LINCOLN
Lincoln 1933
1.5 min B/W Sound 35mm
The Second Battalion of the Lincolnshire Regiment makes its first visit to the city since 1897. After marching downhill through the Stonebow, the troops are inspected by The Earl of Yarborough, Lord Lieutenant of Lincolnshire.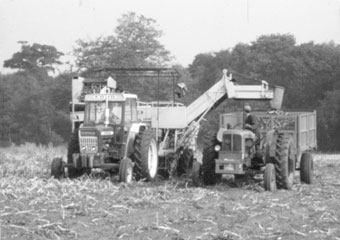 423 FURROWS
Tealby early 1970s
31 min Colour Sound 16mm
Round the year on a farm in the Lincolnshire Wolds, mainly arable (wheat, barley, beet), but sheep are also kept. An attractive film, compiled over several years, which proceeds at an unhurried pace with a thoughtful and reflective voice-over by the farmer himself.

424 MEMORIES OF '76
Tealby 1976
11.5 min Colour Sound 16mm
The year of the great drought, and later of high winds. A farmer reflects on the difficulties extreme weather conditions caused him. Good countryside scenes, with close-ups of insects, etc, and many views showing the aftermath of drought, fires and storms. Filmed on the same farm as 'Furrows'.

425 HORSE POWER
Various 1979/80
17.5 min Colour Sound 16mm
A plea for better management of the soil. Scenes of tenant farmers still using horses and hand tools are contrasted with large-scale mechanical techniques and factory food production. Notable sequences include a water mill grinding corn, a sugar beet plant, and a frozen pea factory.

426 TWO-HORSE FARM
Moulton Marsh 1976
14 min Colour Sound 16mm
A husband and wife, tenant farmers on 26 acres in Moulton Marsh, who still used only horses. They are seen ploughing, drilling, harvesting oats with scythe and pitchfork, and harvesting mangolds into a horse-drawn cart.

Note: the same couple are seen more briefly in No 425.

427 TENNYSON COUNTRY
Various late 1970s
29 min Colour Sound 16mm
Tells the story of Tennyson's boyhood and early manhood in Lincolnshire, using contemporary prints and scenes filmed in the relevant locations, linking these to extracts from his descriptive poems. There are also a few discreet 'reconstructions' in costume (e.g. a distant solitary cloaked figure seen pacing the windswept shore). Attractive location shots, with clear, informative narration throughout.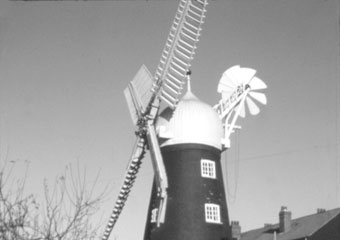 428 WINDMILLS
Various 1980
13.5 min Colour Mute* 16mm
Static, or near static, views of various mills, followed by a detailed illustration of one mill in operation. A party of visiting schoolchildren are seen occasionally but are not obtrusive. [See also 429.]

* Note: A sound track is believed to have existed but is not at present held by the Archive.

429 WINDMILLS (OUT-TAKES)
Various 1980
12 min Colour Silent 16mm
Miscellaneous surviving out-takes from the production of No 428. Some are of scenes not included in the main film, or apparently superior to those actually used.

430 BENEATH YOUR FEET
Lincoln c1973
22 min Colour Sound 16mm
Excavation of a site in Broadgate, Lincoln, by the Lincoln Archaeological Trust. Work on the site is shown and explained. Finds are then seen being sorted, cleaned, catalogued, drawn to scale, etc. The voice-over includes explanatory comments by those seen doing the various jobs. A very clear and thorough picture of the work is given.

431 THE BURIED CITY
Lincoln 1976/77
19.5 min Colour Sound 16mm
Life in Roman Lincoln reconstructed in great detail, using museum exhibits, Roman remains in and around the city, and convincingly drawn artist's impressions.

432 WHAT DO I SEE?
Lincoln 1969
7 min Colour Silent 16mm
Filmed at the City & County Museum. Typical artefacts ranging from a neolithic axe-head to an 18th Century tobacco jar are seen from various different angles, usually as stills, to encourage detailed observation. [See also No 455.]

433 DODDINGTON DIARY
Doddington Hall 1978
15.75 min Colour Sound 16mm
Detailed and elaborate reconstruction of life at and around a large country house in the early years of the Civil War. Enacted by members of the Sealed Knot, but largely concentrating on domestic rather than military subjects. The voice-over takes the form of readings from the (fictional) diary of the lady of the house.

434 LOOKING AND DRAWING
Boston late 1970s?
17.5 min Colour Sound 16mm
The film follows students on a VI Form Art course at Freiston Hall, Boston. Much of the time is devoted to showing the students' own artwork in relation to the actual subject matter depicted, but there are a few scenes in and around Boston itself. The artwork is impressive, but the electronic music on the sound track is a sore trial.

435 GIBRALTAR POINT (SECONDARY)
Gibraltar Point 1967?
4.5 min Colour Silent 16mm
Half a dozen secondary pupils on a field-trip study soil and plants. They collect specimens of various kinds, measure the length of dune grass roots, etc.

436 BIRD RINGERS
Willingham 1980/81
11.25 min Colour Silent 16mm
Members of the British Ornithological Society set up their nets in Willingham Woods, and ring the captured birds before releasing them. In a later sequence, another team is seen weighing and measuring the birds as well.

437 HAWERBY STEAM RALLY
Hawerby 1970
8.25 min Colour Sound* Std 8mm
A Steam Rally at Hawerby Hall Farm, with traction engines, models, roundabouts, etc. The sound track features authentic location recordings.

438 SAILING ON THE HUMBER
Humber 1977 & 1980
46 min Colour Silent 16mm
Lengthy (and somewhat repetitive) compilation of personal material, mostly shot on board various small sailing yachts on many different parts of the river. Maps indicate the location of each section. Good scenes of yachts being hoisted in and out of the water at Ferriby on the River Ancholme and passing through Ferriby Lock. Some useful scenes of river craft, and the Humber Bridge at various stages of construction is often visible in the background.

439 DINGHY SAILING
Barton on Humber c1976
14.5 min Colour Silent 16mm
Dinghy racing (mainly Enterprise class) at the North Lincolnshire Sailing Club, chiefly at their home venue, a water-filled 40 acre former clay pit. Good, lively, medium-close footage, though to the non-enthusiast it inevitably seems repetitive.

440 TEALBY
Tealby late 1970s
15 min Colour Silent 16mm
Rural scenes, general views of countryside, village, etc, mostly taken in either Spring or Autumn. There are some useful agricultural scenes, and a water mill is seen working. The film finishes with a Ploughing Match.


New archive films available from the Film Archive and Primetime Video



Regular updates to keep you informed about the LFA


Full listings of all the LFA film material


How to contact the Film Archive for general or commercial enquiries


Lincolnshire Film Archive details