041-060

041 PORTLAND COTTAGE DEMOLITION
Mablethorpe 1955
2 min B/W Silent 8mm
Exterior and interior shots of half-demolished building. Fairly static, unpopulated scenes, but of interest as revealing its construction, etc.

042 TENNYSON SCHOOL SPORTS
Mablethorpe 1971
1 min Colour Silent Super 8mm
Scenes at a Secondary School Sports Day, with boys' and girls' foot races.

043 CRICKET MATCHES
Skegness 1951
8 min B/W Silent 8mm
Subject in part to processing faults, but the material is in any case repetitive, having been filmed from a single position in each case. Of particular interest is the women's match.

044 MOTOR RACING & STUNT RIDING
Cadwell Park 1938
2 min B/W Silent 9.5mm
Various glimpses of racing in progress, chiefly motorbikes with sidecars. Some solo stunt riding.

045 FOOTBALL MATCH, BLUNDELL PARK (1938)
Cleethorpes 1938
0.75 min B/W Silent 9.5mm Research only
Match in progress, with stands in background. No close ups.

046 FOOTBALL MATCH, BLUNDELL PARK (1951)
Cleethorpes 1951
2.25 min B/W Silent 8mm
Plenty of action, and good general shots of the stadium, including huge adverts on the roofs. A fairly small crowd of spectators.

047 SCENES IN LOUTH AREA
Louth & District 1970
4 min Colour Silent 8mm
Static, haunting, agricultural landscapes of bleak beauty, filmed north of the town in February or March. Includes some scenes at Louth Riverhead.

048 CONSTRUCTION OF LACEBY BY-PASS
Laceby 1959
20 min Colour Silent 8mm
After illustrating the traffic problems which necessitated the by-pass, the film shows plant being used to clear and level the site, the laying of drains and road foundations, various concrete structures in progress, the final surfacing, and, from a moving vehicle, a drive along the finished road. At the time, the Laceby by-pass was hailed as exemplifying the latest and best in new road construction; today, the film is also of interest for its numerous incidental details, the vehicles, the hurricane lanterns, even the clothing.

049 HAPPY DAYS AT THE SEASIDE
Skegness 1938
6 min B/W Silent 16mm from 9.5mm
Scenes at the station, the gardens, the swimming pool, the roller skating rink, and the beach, including not only donkey rides, but a sand-yacht. The film was made by visitors on a day trip.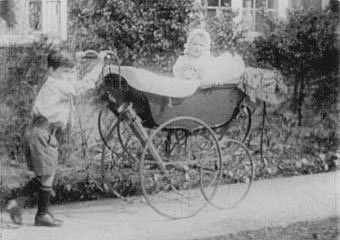 050 BABY'S BIRTHDAY PARTY
Grantham 1917
3.5 min B/W Silent 35mm
In effect, an early home-movie. A 7 year old boy wakes up his baby sister on her birthday. She is bathed and dressed; then, out in the garden, he shows her all the presents that have arrived for her. Finally, he wheels her off in her pram. A charming and unusual item, of great social interest.

051 BOSTOCK FAMILY ON HOLIDAY
Skegness 1928
2 min B/W Silent 35mm
Beach and bathing scenes with much splashing and laughter, after which various family members disport themselves outside their holiday house in Seacroft; Dad makes a turban out of his towel, a small boy dances the Charleston, and a maid in cap and apron stands by.

052 MID-LINCS WITH THE PAST
Lincoln 1935
8 min B/W Silent 16mm
Miscellaneous views of Lincoln, many rather short and disjointed, but including some notable street scenes, a train at a level crossing, Steep Hill, Brayford Pool, the Glory Hole, the Arboretum, and a virtually empty Ermine Street.

053 POWER LINE LAID, BOSTON TO SKEGNESS
Boston & District 1935
7 min B/W Silent 16mm
Filmed by one of the engineers whilst work was in progress. There are scenes of the Boston sub-station, the erection of poles in difficult terrain, unreeling the cable and hoisting it into place, and the installation being inspected. The work is done almost entirely by hand, or by horse-power, most of the route being inaccessible by road.

054 TURKISH AMBASSADOR AT SPRINGFIELDS
Spalding 1972
8 min Colour Silent 16mm
To mark what was said to be the 400th Anniversary of the tulip's introduction to Europe from Turkey, the Turkish Ambassador visits Springfields Show Garden to unveil a statue of the somewhat notional character responsible. The Tulip Parade that year had a Turkish theme, and some of the floats are seen passing the Gardens.

055 ROYAL VISIT TO LINCOLN
Lincoln 1918
1.5 min B/W Silent 35mm
King George V and Queen Mary are seen briefly outside the Cathedral, and presenting medals to troops at the Fourth Northern military hospital on Wragby Road which later became Lincoln (Christ's Hospital) School. Of particular interest is the Royal Daimler, specially built to enable the King to enter it without stooping.

056 CROWLE CARNIVAL
Crowle 1933
11.5 min B/W Silent 35mm
Street scenes with crowds, a procession of floats, the coronation of the Carnival Queen, and a dance display by children in the park.

057 LOUTH HOME GUARD & ARP EXERCISES
Louth 1940/41
16.5 min B/W Silent 16mm See note, page 12
The Home Guard (1941) are seen both on the parade ground and training in the field. The Battalion Inspection by Lt Gen Ralph Eastwood is also featured, together with a short, humorous recruiting film. The ARP exercises (1940) include a simulated gas attack, with the decontamination squad in full panoply; the treatment of "casualties" from a "bombed building"; a fire drill, and the rescue of "victims" trapped on an upper floor. A light-hearted, but revealing item of great historical interest.

058 FARMING AT WAINFLEET
Wainfleet 1936
4 min B/W Silent 9.5mm
Filmed by a 15 year old boy on his father's farm and depot, and of considerable interest despite its limited technical quality. Steam threshing and horse-drawn ploughing and harrowing are seen; potatoes are planted, harvested, riddled, and loaded onto lorries. Also notable is a circular saw guaranteed to give any Health & Safety official a heart attack.

059 FIRSBY SHOW
Firsby 1937
3 min B/W Silent 9.5mm
Unedited footage. Numerous horses, including working horses, being led round the ring; the South Wold Hunt; onlookers; horses being led through the street.

060 WATER COURSE
Lincoln (also Elkesley, Notts) 1963
12 min Colour Sound* 8mm
The history of Lincoln's water supply, which includes various scenes in and near Lincoln, and some items filmed in the Museum. Most notable, however, is the footage of the pumping engines at Elkesley in Nottinghamshire from which the modern supply is drawn.


New archive films available from the Film Archive and Primetime Video



Regular updates to keep you informed about the LFA


Full listings of all the LFA film material


How to contact the Film Archive for general or commercial enquiries


Lincolnshire Film Archive details